I am truly amazing and I'm appreciated more than I thought.

Thank you all who has stuck by my side.
This year taught me a lot.


I miss you because you took a huge chunk of my heart when you left and I'll never get it back.

I've felt this way for the last 3 years.

Now I know how all the other guys felt when I walked away.

I will always love you. Too bad you'll never feel the same for me.
I don't miss you because it's Valentine's day.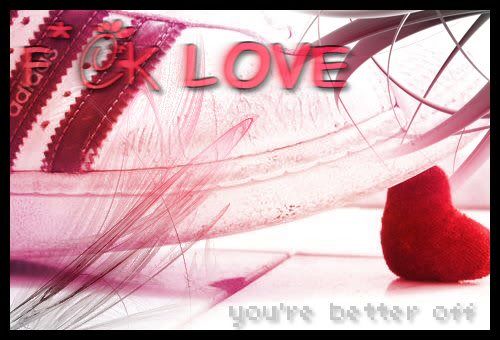 Track Listing:
1. Agnes - Release Me
2. Aly & AJ - Potential Break Up Song
3. Cee-lo Green - Fuck you
4. Danity Kane - Damaged
5. David Guetta Ft Fergie, Chris Willis and LMFAO - Gettin' Over You
6. Get Far feat H-Boogie - The Radio
7. Haddaway - What is Love?
8. Kim Sozzi - Break Up (Cascada Remix)
9. Lily Allen - Not Fair
10. Little Boots - Remedy
11. Pussy Cat Dolls - I Don't Need a Man
12. Ne-yo - A Little Space
13. Rilo Kiley - Breaking Up
14. Shontelle - Impossible (Riddler Remix)
15. Trina - Single Again
16. White Town - Your Woman
17. 2GE+HER - The Hardest Part of Breaking Up (Is getting back your stuff)
18. Destiny's Child - Independent Women
19. Basshunter - Now You're Gone
Link: http://www.mediafire.com/?oqffiajc
cx7l5c8 Enjoy!!!!
So every year I make a mixtape to show how much I despise Valentine's day. This year, I decided to make it an upbeat playlist so you can dance to it. No slow jams here. Enjoy!!
why? Because my best friend will be home in 9 days. he means the world to me and I can't wait to see him even if its for a day. <3

24th Birthday. Success
Halloween. A mission to find a costume

Is it May 17th yet? lol
Midterms. Done


What happened to the girl that strived and got the A average and wanted to be super successful
The girl that swore to never drink, smoke or anything of that nature.

Then I realized a pattern. After August 2003, I became the person I am now. I used to be super straight-edge and was only concerned with getting good grades and making everyone happy

Now? I just live through the motions now.

Wow...
I was reading through some old OLD livejournal entries.
the wait for me owning Star Craft 2 is becoming unbearable. LOL

My life is going to drastically change in the next twelve months. I have this huge decision weighing on my shoulders and it eats me up alive. I finally get to graduate May 2011 being I have 9 classes between me and graduation. My decision has to be made in the next 6 months because it is huge.
Do I move to San Juan or not? Why San Juan? My best friend is living out there for the next 2-3 years. He's all I really have left in the trust department with people. New York is infested with the shadiest people and I refuse to surround myself with that.

What's stopping me? Starting my career in New York.

I always wanted to get into publishing but lately, I have been interested in getting into the Magazine field. I have some contacts in that field and they said that they can help me with interviews.

Should I stay or should I go?

My mom, of all people, feels I should move. To be honest, the last few months have been the hardest on me emotionally. I started from scratch with associating myself with a different crowd of people. It is so tough because I have been in the same large circle of people for the past 10 years that I feel I have to learn new things and try new things. My mom feels I should leave and start a new life.

My career is the only thing holding me back from leaving.
My best friend? The best friend a person can ask for. He said he would let me crash on his couch until we can find a bigger place and I get a stable job. Oh where would I be without him?
I have until the end of the year. 6 months. So much can happen between now and then. Let's just hope things don't blow up in my face.

Stay fresh.


No one can replace you no matter how much I try....

I wish I never met you.
I wish you never gave me false hope.
I wish you would go away.
I wish you would let me heal.
I wish you wouldn't tell me you miss me.
I wish these tears wouldn't come around when I miss you.
I wish I can replace you.
I wish I can move on

I just wish and wish and wish I never fell in love with you.


You have a part of my heart that no one else in the world will never ever have.

I truly hate you...
I am convinced.