I sat there, alone. If it wasn't for my friend Natascha, who was bartending, I would've been completely alone. I had planned a New Years party because people convinced me to. No one showed up.

As I sat at the counter of Maggie Mae's, getting drunk of my stupor, a realization smacked me in the face in the same manor that my hang over did the next morning.

I felt lonely even though I was surrounded by so many people.

Nothing helped me more that night than talking to my friend of 8 years, Chris Quiogue. Him and I have endured so many things together in our friendship and that made our bond unbreakable. He is the one friend that I have been thankful to have. He did what I am doing now a few months prior and I knew that he would be the best person to talk to about my epiphany.

People were dropping me like a hot potato left and right in the second half of 2009 and I was fed up with the situation that I was forced into. It was something I had no control of and the irony of it all, I was being punished for something I never did.

Starting in the beginning of January, I decided to cut people out of my life. I sat down and contemplated who were the important people in my life. The people I felt that actually mattered. Some people argued their opinions about the people I cut or kept in my life.

There were people that I let go out of associations they had with other people. Those selections were the hardest selections that I had to make because they didn't do anything wrong and I felt like a hypocrite for my choice. It was something that had to be done and it can not be changed.

I was miserable because the people I used to surround myself with were pure poison. Whenever I would hang with a group of people, I would always feel left out of the equation and wonder, "WHY THE FUCK AM I HERE WASTING MY TIME?!?!" It would get to the point where I did not give a flying fuck whether people invited me to hang out anymore. I always felt there was an animosity that people had towards me and I figured, why bother being around them for when I leave, they still shit talk me.

Do I regret the choices I made in the last month?

No.

Why not? Cause I have never appreciated the group of friends that I know are there for me and supportive. The ones that I had no drama and that know my life story and never judged me. I never appreciated my fraternity sisters so much because of the fact I used to be consumed with being ms.popularity, I never saw how awesome they were and in front of me the whole time.

I love spending time alone. Being alone and doing whatever I want is something I wish I discovered doing. Going to Rock shows, clubs, bars and everything in between alone is so much fun.

Well there is my post for the next year. See you guys in 2011 <3
On New Years Eve 2009, I had an epiphany. Sitting on a bar stool at my favorite bar while my favorite bartender pours my usual, something dawned upon me.


So I celebrated 2 years of singleness and freedom 2 weeks ago. I must admit, I never thought I would be happy being single. I march to the beat of my own drum and I do what I want, instead of pleasing someone. It has helped my creativity so much. Yeah I do go on occasional dates with guys. Basically I do it to meet new people. For all you know, the guy you go on a date with could be your new best friend or a future colleague. I would've gotten married but I was like 'I have my entire life to be tied down'. Why not live life up now?

My music career path is getting more intense than never. Next Summer I am already planning summer clinics to fly out to. Oh btw, I am officially a Sister of Sigma Alpha Iota. I crossed May 10th, 2008. I can not wait for our convention July 2009. I am excited to meet sisters who share the same passion of music as I do. I have been arranging some compositions for fun and my friend Chris is convincing me to play my Flute at open mics that he frequently performs at. Gotta make that dream come true :)

BTW... 5FAMILIES KICK ASSSSSSS!! (www.5families.net)

When it comes to friends, I have reconnected with a lot of old friends this summer. It's great cause now we always hang out. I appreciate my circle of friends now cause they are amazing people. I love all of them. Sara, Sarah, Dima, Javi, Carlo, Anthony, Osh, Angel, etc... They are fucking kick ass and I am glad we are all on good terms and all we do is have fun with each other. Why stress the past?

My life is totally fucking Zen. I got my fraternity Sisters(who I fucking love soooo much), my new NYC crew, The STDs of course, and my boys from school. I feel like now since I took care of a lot of things, I feel at peace. I couldn't ask for better people to surround myself with cause no matter how much I fuck up my life, they are still here. Shit, we joke about how much of a spaz I am and how I always get myself in trouble. <3

See you guys in 7 months
So I posted about 7 months ago. Heh I guess I have a lot to catch up on...
My love life has been very low key. I just focused on being a musician so I didn't have a boyfriend. I figured, once you were engaged, why settle down right away? I have been going on dates with different guys but nothing serious. I am just trying to do my musical thing. Plus I have too many good times with just hanging with my friends that a boyfriend would just take me away from my friends. Chicks before Dicks <3 I did have my eye on one guy in particular but if you knew me on a personal basis, you knew that guy was pure TROUBLE! We are officially done with each other and I could not be any happier.
Friends? I cut off a few people in 2007 but hey if they can't stick it through situations with you then we weren't meant to be friends right? I have been spending most of my free time with my two best friends: Javier & Mel, my co-workers from Afaze and my favorite Bloomfield Residents. In 07 I basically lived in Bloomfield, New Jersey cause most of my friends live there so I would take the 1 hr bus ride from school in Wayne to B-Field to chill with them. Karaoke nights and random road trips made it worth the while.
There is a lot in store for me in 2008. I might be officially moving out of my mom's house in NYC and getting my own place with some friends in Dirty Jersey. This all depends on me getting my license but I am going for my permit with my BFF Mel on Friday in NYC so yay!! Going to a lot of weddings, music conventions and possibly a week in PUERTO RICO!! My friend Kasey has a place out there and I am going to con him into going with my friend Kristin too cause us three are trouble when we party. I am cutting and dying my hair to start my new year off right. I lost 22lbs in the last 6 months and it feels nice to hear people tell me that they notice that I look skinner :) As long as I don't lose the boobage, I'll be content :D All I am looking forward to is living my single, party girl life with all of my good friends. And Hopefully I will be pledging for Sigma Alpha Iota this spring!! I still haven't gotten my grades but I pray I do well so I can finally be a sister of SAI. I've waited almost 3 years, they might as well make me a sister lol <3
I am reachable for those folks who would like to contact me
AIM: Ladypinkii86. If you know I don't wanna talk to you, don't bother cause I'll block your ass.
GOOD LUCK TO ALL IN 'O8!! I know it will kick ass for me :D
Now here is some eye candy for those that are interested. Warning: A lot of pics :p
(
Eye Candy!
Collapse
)
So 2008 is here. Yes I am still a long way from Graduation but so are my best friends so whatever :P I have been so occupied being a stellar musician. I played in two kick ass ensembles: Woodwind Quartet: Flute (me, duh!), Clarinet, Oboe and French Horn. The other group was a 5 member Flute Ensemble. I played mostly Bass and Alto flute cause I love those flutes <3 I started to compose music on the side because I want to get a Master Degree in Composition and hopefully one day break into Film Scoring in California. Being my boy Chris does movies I can get a heads up on what's instore for me in my future :)
Current Mood:

awake

Current Music:

Atomic Kitten - Ladies Night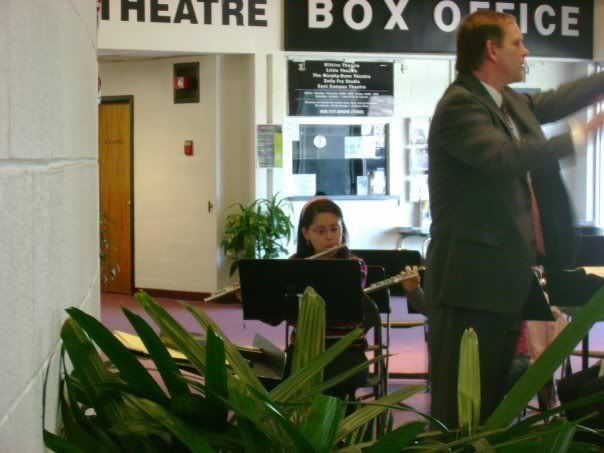 thats me at a Sight-reading for Concert band Clinic at Kean University
Current Music:

Danity Kane - Touching My Body


I am aware people have finals and what not, but for me this is my final for Concert Band. Be a good friend and support my lil debut playing with teh WPUNJ wind ensemble thursday night.

our program is awesome and I know people will enjoy it


btw... did I mention it was FREE?

So come on down to William Paterson Uni for a nice concert.


comment if u want info!
then come to William Paterson University for the Wind Ensemble Concert on May 4th at 8pm at Shea Center for Performing Arts @ WPU
Current Location:

my dorm desk

Current Mood:

attempting to finish essay

Current Music:

Christina Millian feat Young Jeezy - Say I (Produced By Cool N Dre)


why summer 2006 is gonna rock:
-working at Afaze... i love that place and i am glad they are re-hiring me. they loveee me
-jersey shore with the roommate. got invited to her summer house..woo hoo
-spending a lot more time in NYC. Since I am leaving FYE next week, no point to be in Jersey as much
-Beach!! plan to hit up the beach with the crew
-Hopeful random hang out @ Jen's this summer.
-Possible flute lessons
-Tuesday routine with my cousin(movies for $4 and Burger King)

25 more days here at William Paterson then HOME!! now to finish the project... a ha
The spring semester has been going good in my opinion. I am taking a break from researching for my Intro to Music Ed project on Carl Orff. I spent 4 hours researching last night... egad!! But all I was thinking last night was about how fun this summer is going to be for me this year. Even though my best friend is leaving me for Florida(he leaves me every summer... what else is new?), this summer looks promising.
Current Mood:

nerdy

Current Music:

Kanye West - Touch The Sky (Feat. Lupe Fiasco)
heartbreak and 1/2 ;__; 12 music classes, 18 creds...
and that's if i get that schedule man
love my roomie

i HATE men
i
Current Music:

Twista feat. Kanye West - Celebrity Overnight

-every ear you pierce its a $1
-the most piercing wings an additional $250

So come to 901 6th ave(Manhattan Mall) and Ask for me to get ur ears pierced

<3
I work at Afaze and we pierce ears. This month, the employees are having a contest on who gets the most ear piercing. I want to win cause: